Welkom in onze subcategorie gewijd aan Fantasy Dieren! Hier vind je een verzameling verbluffende en betoverende afbeeldingen van enkele van de meest mysterieuze wezens in de fantasiewereld. Onze galerij toont een breed scala aan wezens, waaronder elfen, katten, luipaarden, konijnen en meer.
Onze sectie van Fantasie Dieren is perfect voor liefhebbers van de schoonheid en het mysterie van mythische wezens. Van gracieuze en majestueuze elfen tot speelse en ondeugende katten, onze collectie heeft voor elk wat wils. Elke afbeelding is gemaakt met ongelooflijk detail en legt de essentie en persoonlijkheid van elk wezen vast.
Een van de grootste attracties van onze collectie is de brede variëteit aan katten die we hebben. Van zwarte katten met doordringende ogen tot speelse tabby's, onze collectie bevat enkele van de meest boeiende en fascinerende katachtige wezens die je je kunt voorstellen. Elke afbeelding is met ongelooflijk detail weergegeven en toont de unieke eigenschappen en persoonlijkheden van deze betoverende dieren.
Onze galerij biedt ook een scala aan andere Fantasie Dieren, waaronder majestueuze luipaarden en speelse konijnen. Elke afbeelding wordt tot leven gebracht met adembenemende visuals en toont de schoonheid en het mysterie van deze boeiende wezens.
Of je nu een doorgewinterde fantasy-liefhebber bent of net begint, onze subcategorie van Fantasie Dieren is de perfecte plek om de betoverende wereld van mythische wezens te verkennen. Kom onze collectie verkennen en ontdek de magie zelf!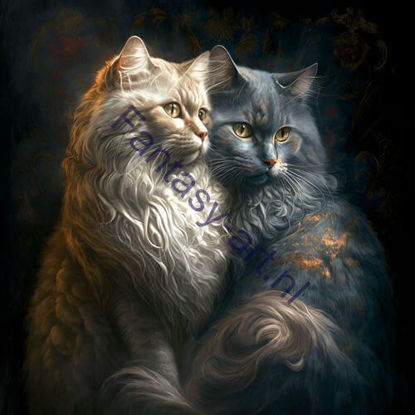 Deze prachtige 9 x 9 cm foto-illustratie van katten die elkaar vasthouden, is een kunstwerk dat de band tussen katten en hun genegenheid voor elkaar weergeeft. De olieverfstijl geeft de semi-realistische katten een harige uitstraling. Perfect voor een fotolijstje, agenda of art journal, maar pas op dat het niet tegen de heat-tool kan. Deze foto zal zeker een blijvende indruk achterlaten in elke kamer.